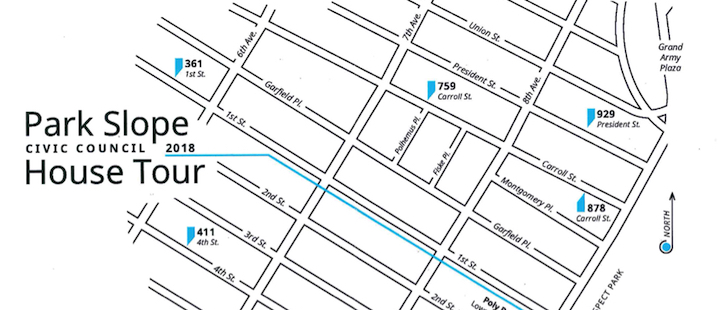 Last month, the Park Slope Civic Council (PSCC) hosted its 59th annual Park Slope House Tour.  The self-guided walking tour allows participants to view a curated selection of Park Slope historic homes and learn about their unique history from original conception through recent renovations.  The houses this year ranged from the untouched historic specimen, through a time-capsule-like 1980's renovation (with attendant newspaper clippings adorning the walls), to a state of the art 21st-century modern insertion.
TOLA, in concert with the AIA Brooklyn Custom Residential Network (CRAN), was happy to volunteer as a house-sitter (the PSCC has a strict protocol for touring, including a no shoes, no photographs, and a docent overseeing every room).   It was a treat to be on the other end of the Brooklyn brownstone design experience and hear the running commentary from the community of historic preservationists, homeowners in search of renovation solutions, peer architects, and New York City design voyeurs.
The 2018 House Tour will help to fund the Civic Council's 2019 grants and its larger mission to "promote the health, vitality, and character of the Park Slope neighborhood."  
Visit parkslopeciviccouncil.org for more information.